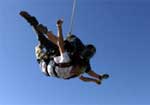 Hello Friend. 2016 is a Leap Year.
I promised skydiving to my son when he graduated High School 2-1/2 years ago. It has finally risen to the top of our to-do lists. It's time.
We'll both be taking Tandem jumps from Skydive Hollister in Hollister, CA, 60 miles south of Palo Alto. Jumps start at 7,000 feet with 5-10 second freefall. The highest tandem jump is 18,000 feet with 90+ seconds of freefall. We'll be jumping at 11,000 feet or above.
Your contribution helps us reach higher. While I'm not sure what I'll feel about the jump when it's time to make it, I know I'll be even more committed with your support.
We hope to share this memorable experience with you as a friend, colleague. We're putting the sharing economy to the test for the fun of it. For less than the price of a movie ticket, show your support.
Thanks for diving in.
Peter
peter@fab7.com